---
---
---
In construction...
---
Roof-Top Observatory
I work exclusively from a "roof-top" observatory (arrowed) in the upper floor of my appartment in Oeiras, Portugal. Oeiras is a small town located about 30km west of Portugal's capital Lisbon. The sky is accessed by a conventional roof window.
Telescopes
The main instrument I use to obtain lunar, planetary, but also deep-space images, is a model LX200 10" (f/10) Schmidt-Cassegrain telescope from Meade, permanently mounted on a concrete pier using a "super-wedge". The pier is securely attached to the observatory's floor, and is still surrounded by its original wood cast (painted black). A Meade 4" (f/10) Schmidt-Cassegrain optical tube assembly is piggy-back mounted onto the main tube and, when necessary, I also have the possibility to attach to the system a CCD camera equipped with photographic lenses. The scope is balanced with the help of "body-builder" wheighs that run on aluminium profiles mounted onto the 10" tube. The LX200 is equipped with a moto-focus unit from Meade. When necessary I use a Kendrick Dew-Remover system in the 10" telescope.
---
C11 "orange" in eastern balcony
---
AO-2 adaptive optics device from Stellar Products
---
S.B.I.G's refrigerated CCD cameras (ST-5C and ST-6)
and motorized filter wheel (CFW-6A)
I own two refrigerated CCD cameras from SBIG, models ST-5C and ST-6.
Photographic Lenses
---
WebCams
Grayscale QuickCam
The grayscale QuickCam was the first webcam I modified for astrophotography.
b) QuickCam VC
---
Digital Cameras - Olympus Camedia 1400L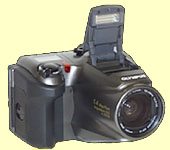 I bought the Olympus Camedia 1400L specifically for domestic photography. However, I soon realized that it could also be a nice camera for astrophotography, both as a stand-alone instrument and when used in combination with my 10" Schmidt-Cassegrain telescope. For more details take a look at the "Astrophotography with Digital Cameras" section of this page. For technical information about the camera visit the Olympus web page.
---
All Images and Texts on these pages are Copyrighted.
It is strictly forbidden to use them (namely for inclusion in other web pages) without the written authorization of the author
© A.Cidadão (1999-2000)
---