---
Converting an old floppy drive to a precise Foucault tester
---
Get an old 5 1/4" floppy drive:
Attach piece of metal angle to head carriage base (one below came from bend floppy drive mounting bracket). Tape safety razor blade (or something similar) to the upper end - this is testing knife edge. If you are using razor blade, put pieces of tape over top and bottom ends of the blade - its better not to risk slicing your eyelid (or worse) when testing! The carriage base usually pivots a bit - this can be utilized to move knife edge sideways.
Mount depth gauge to a wodden block and attach that assembly with wood screws (from below). Gauge's probe should still press against knife edge carrier bracket when it is completely backed-off. Make sure that probe is parallel to carriage tracks! My gauge has 1 inch travel which is plenty for testing a 20 inch f4 mirror.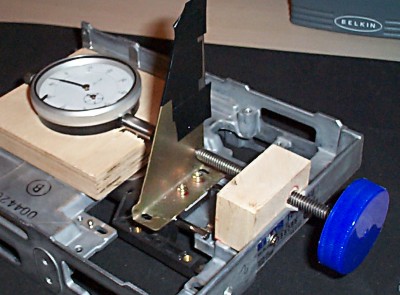 Attach battery holder and switch. To keep with a spirit of scavenging, I converted broken flashlight! Also make a small hole with a needle in a piece of aluminium foil and mount this pinhole over the frosted section of the lamp.
---
---
Number of visitors:
---
© Jan Wisniewski