---
Alors que nous préparions ce petit recueil d'images de la Louisiane, du Mississippi et de la Floride, l'ouragan Katrina s'est abattu (29.08.2005) sur cette région laissant derrière lui de nombreuses morts et des dégats considérables. Un crève-coeur.
While preparing this photos report about Louisiana, Mississippi and Florida, hurricane Katrina made its landfall (2005-08-29) on this area we especially appreciated to discover last year. The aftermath of this tropical monster, this devastation are really a heartbreaker. Our thoughts go to the LA, MS, AL and FL inhabitants.
---
[remonter/top]
Louisiane / Louisiana

Nouvelle-Orléans (Louisiane), vieux carré (quartier français)
/ New Orleans (LA), french quarter (vieux carré)

Nouvelle-Orléans (Louisiane), le vapeur Natchez / New Orleans (LA), Natchez steamboat
Nouvelle-Orléans (Louisiane), cathédrale Saint-Louis et Jackson Square
/ New Orleans (LA), Saint-Louis cathedrale and Jackson Square

Natchitoches (Louisiane) / Natchitoches (LA)

Louisiane, terre de pétrole / Louisiana, oil plant
---
[remonter/top]
Mississippi

Centre spatial Stennis (Mississippi),
tuyère de navette spatiale
/ Stennis Space Center (MS),
space shuttle main engine close up

Biloxi (Mississippi), mouette
/ Biloxi (MS), seagull

Natchez (Mississippi), vapeurs sur le Mississippi
/ Natchez (MS), steamboats on the Mississippi river

Vicksburg (Mississippi), mémoire de la guerre de Sécession
/ Vicksburg (MS), Civil War memorial
---
[remonter/top]
Floride / Florida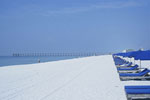 Pensacola Beach (Floride) / Pensacola Beach (FL)
Phare de Pensacola (Floride) / Pensacola (FL) lighthouse
Clichés / Photographs by
Isabelle Rapin & Yannick Blin
---
astro & photographiquement vôtres...
astro & photographically yours...

---
Voir aussi/see also :
et un clin d'oeil.../and a wink... :
Orléans, première du nom :
/ Orleans, the original and old french city :
Ressources & liens / Ressources & links
Nouvelle-Orléans par Jerry Lodriguss
/ New Orleans by night, by Jerry Lodriguss