Ecosse /
Scotland

Talmine, Ecosse / Talmine, Scotland
---
Acte V. Dernières impressions écossaises
/ Last act. Leaving Scotland

Phare de Strathy Point
/ Strathy Point lighthouse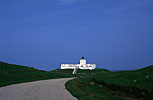 Phare de Strathy Point...
/ Strathy Point lighthouse...

... et ses gardiens
/ ... and its keepers

Phare de Dunnet Head, point le plus septentrional de l'Angleterre continentale
(humour anglais)
/ Dunnet head lighthouse, northernmost point of continental England (english humour)
Clichés / Photographs by
Isabelle Rapin & Yannick Blin

Acte I. Le canal calédonien
/ First act. Caledonian canal

Acte II. Ile de Skye
/ Second act. Skye island

Acte III. Highlands
/ Third act. Highlands

Acte IV. Eclipse du 31 mai 2003
/ Fourth act. 2003.05.31 eclipse

Acte V. Dernières impressions
/ Last act. Leaving Scotland

itinéraire/itinerary | galerie/gallery
---
astro & photographiquement vôtres...
astro & photographically yours...