CCD ASTROPHOTOGRAPHY by Pedro Ré
DEEP-SKY
LUMINANCE AND H-ALPHA PROCESSING FLOW (Kodak KAI-11002M)
Acquire deep-sky images
Calibrate, align and combine CCD images (Maxim DL)
Calibrate raw images (see below)
Use manual (2 stars) or automatic alignment operations (Auto correlation or Auto star matching)
Use SDMask or Sigma Clip for all combination operations
Perform a DDP-style stretch on the combined image (Don't do any sharpening as part of DDP. This is accomplished by selecting the "user" kernel filter, and setting the filter coefficients to 1.0 in the center, and zeros elsewhere). DDP with a small sharpening can also be used with good results (FFT Low-Pass, Custom 25 a 35% Cutoff)
Save the image (FITS format IEEE Float)
Final Processing (Photoshop)
Load the FITS DDP-stretched image into Photoshop (using Fits Liberator 2)
Use Curves to ajust contrast and brightness
Use (if necessary) Neat Image Photoshop plug-in to remove grain
Save the final 16-bit TIF file
Convert to 8-bit and save JPG file
LUMINANCE AND H-ALPHA PROCESSING FLOW (Kodak KAF-3200E/ME, Kodak KAF-1602E/ME)
Acquire deep-sky images
Calibrate, align and combine CCD images (Maxim DL)
Calibrate raw images (see below)
Do any de-blooming repair prior to alignment and combination (e.g. New Astro DeBloomer for Maxim DL)
Use manual (2 stars) or automatic alignment operations (Auto correlation or Auto star matching)
Use SDMask or Sigma Clip for all combination operations
Perform a DDP-style stretch on the combined image (Don't do any sharpening as part of DDP. This is accomplished by selecting the "user" kernel filter, and setting the filter coefficients to 1.0 in the center, and zeros elsewhere). DDP with a small sharpening can also be used with good results (FFT Low-Pass, Custom 25 a 35% Cutoff)
Save the image (FITS format IEEE Float)
Final Processing (Photoshop)
Load the FITS DDP-stretched image into Photoshop (using Fits Liberator 2)
Use Shadow & Highlight (30:50:10, 50:50:10) or Levelizer (Starizona Photoshop Plugin Package)
Use Curves to ajust contrast and brightness
Use (if necessary) Neat Image Photoshop plug-in to remove grain
Save the final 16-bit TIF file
Convert to 8-bit and save JPG file
LLRGB PROCESSING FLOW (Kodak KAF-3200E/ME, Kodak KAF-1602E/ME)
Acquire deep-sky images
Calibrate, Align and Combine CCD images (Maxim DL)
Calibrate raw images
Do any star de-blooming repair prior to alignment and combination
Combine images for each channel (L, R, G, and B) (use SDMask for Luminance and Median Sum for RGB files, use manual or automatic alignment operations)
Perform color balancing for each color channel (e.g. SBIG ST-10XE RGB= 1.0, 1.1, 1.9)
Combine the images into an LRGB image in Maxim DL
Perform a DDP stretch on the Luminance image
Perform a DDP stretch on the LRGB image
Boost color saturation after DDP if needed (save in 16-bit TIFF format)
Final Processing (Photoshop)
Load the Luminance FITS DDP-stretched image into Photoshop (using Fits Liberator 2)
Use Shadow & Highlight (30:50:10, 50:50:10) or Levelizer (Starizona Photoshop Plugin Package)
Use Curves to adjust contrast and brightness
Use (if necessary) Neat Image Photoshop plug-in to remove grain
Load the LRGB 16-bit TIFF file
Align L and LRGB images
Combine L and LRGB images (LLRGB) (Change the blend mode to "luminosity", change the opacity to ~50%, Flatten image)
Save in TIFF or JPG format
DEEP-SKY IMAGE PROCESSING (MODIFIED CANON 350D DSLR Camera)
Acquire deep-sky images (DSLR images)
Calibrate, Align and Combine CCD images (Maxim DL)
Save as RAW images (*.CR2)
Calibrate raw images
Convert RAW images to color in Maxim DL (COLOR MENU - Convert Color: AUTO background level, COLOR SCALING, Red - 75%, Green - 125%, Blue - 125%)
Align images in Maxim DL (manual 2 stars or automatic alignment)
Combine images in Maxim DL (e.g. SDMask)
Save result in 16-bit TIFF files (no compression)
Perform a DDP-style stretch
Save the image (FITS format 16-bit) (no compression)
Final Processing (Photoshop)
Load 16-bit TIF DDP stretch file in Photoshop
Use Curves to adjust contrast and brightness
Save the final 16-bit TIF file (no compression)
Convert to 8-bit and save JPG file (no compression)
STAR TRAIL PHOTOGRAPHY (DSLR cameras)
Acquire images
Use a sturdy fixed tripod
Use a good quality lens (10 to 50 mm focal length or more)
Use full aperture and 30 s integrations (focus to infinity)
Shoot lots of 30 s images in a sequence (for 15 to 60 min or more)
Use a remote switch (lock position)
Set camera white balance to tungsten (Manual mode)
Set camera ISO to 800 or 1600 (Manual mode)
Save as RAW images (*.CR2) or JPG (no compression)
Image processing (Photoshop)
Load images in Photoshop
Combine images using the lighten option (copy and add multiple layers, no alignment required)
Use Curves to adjust contrast and brightness
Correct color if necessary
Save the final 16-bit TIF file (no compression)
Convert to 8-bit and save JPG file (no compression)
SOLAR SYSTEM
COMET IMAGE PROCESSING (MAXIM DL, PHOTOSHOP)
Acquire CCD comet images
Calibrate raw images
Do any star de-blooming repair prior to alignment and combination
Use manual (1 star) taking as reference the comet nucleus
Use Sum for all combination operations
Perform a DDP-style stretch or a log scaling
Save the image (FITS format 16-bit) (no compression)
Load result in Photoshop
Use Curves to adjust contrast and brightness
Save the final 16-bit TIF file (no compression)
Convert to 8-bit and save JPG file (no compression)
LUNAR AND SOLAR IMAGE PROCESSING (DSLR cameras)
Acquire images (10 to 20 full-disc DSLR prime focus images)
Crop images and Convert to 16-bit TIFF files in Photoshop (if necessary)
Align images in Maxim DL (e.g. using a bright crater or sunspot and manual star shift only option)
Combine images in Maxim DL (e.g. Median Sum)
Save result in 16-bit TIFF files (no compression)
Load result in Photoshop
Reduce output levels to 225 (CRT L)
Apply a strong unsharp mask ( e.g. amount 150 to 250%, Radius 1, Theshold 0)
Use Curves to adjust contrast and brightness
Save the final 16-bit TIF file (no compression)
Convert to 8-bit and save JPG file (no compression)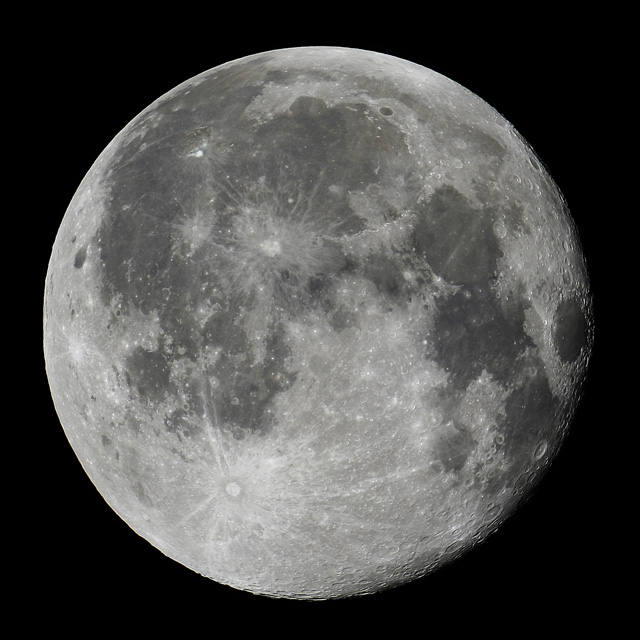 HIGH RESOLUTION IMAGING (SUN, MOON, PLANETS)
Acquire high resolution images
Save AVI files or SER files (12 bits) (SKYnyx cameras)
Open Registax 4 http://www.astronomie.be/registax/
Select AVI or SER file
Choose best frame (manually)
Choose alignment options (alignment box) using Gradient as quality estimator
Align images
Limit the number of images to add
Create a reference frame (50 to 100 images)
Optimize images
Stack images
Process the combined image using the Wavelet filters
Reset the Wavelet filter (500 to 1000 center value)
Use layer 1 and 2 of Wavelet filter (try several options)
Process image (DO ALL button)
Save image (16-bit TIFF file)
Process TIFF file in Photoshop
Use Curves to adjust contrast and brightness
Use unsharp mask if necessary
Save the final 16-bit TIF file (no compression)
Convert to 8-bit and save JPG file (no compression)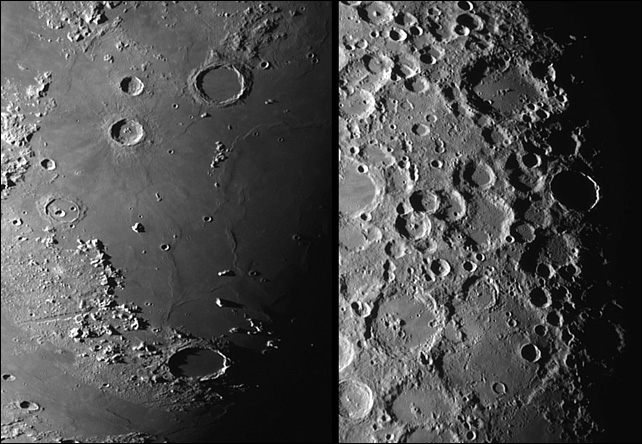 CALIBRATION OF CCD IMAGES POWERPOINT PRESENTATIONS (PDF FILES)


Calibrated = (Raw - Bias - Thermal) / Flat = (Raw - Dark) / Flat The DARK frame should be removed first from the RAW image then the result should be divided by the FLAT-FIELD. DARK FRAME A dark frame is an integration in which no light strikes the CCD. It records the BIAS noise and THERMAL noise for a specific CCD temperature and integration time: DARK FRAME = BIAS FRAME + THERMAL FRAME To take a dark frame you can simply cap your telescope and integrate using the same time that you are using for acquiring the raw image. If you are not able to control the chip temperature (+/- 0.1 °C), dark frames should be taken immediately before or after taking a raw image. For better results shoot lots of dark frames and MEDIAN SUM them. BIAS FRAME The bias frame is an image made with an integration of zero seconds and shutter closed. It contains the amplifier zero-point offset, the random readout noise from the amplifier and the noise from camera electronics. CCD cameras made for scientific imaging usually include the ability to read out a bias frame but for the simple purpose of subtracting THERMAL FRAME and BIAS, a DARK FRAME serves equally well (DARK FRAME = BIAS + THERMAL FRAME). The examination of a bias frame tells you if your camera is working properly: if you see wavy lines or patterns, your camera may not be functioning well. FLAT-FIELD The FLAT-FIELD frame is a photosite-by-photosite map of a CCD's sensitivity to light. It is an image of a uniform object such as twilight sky or a sheet of opal glass attached to the inside of the observatory dome. Chip sensitivity, vignetting and dust all appear as variations in the sensitivity of the CCD itself: division by FLAT-FIELD will remove these defects. When you make a raw FLAT-FIELD, then you must subtract the THERMAL and the BIAS frame from it (or the DARK). For the lowest possible noise, MEDIAN SUM more then one FLAT-FIELD to obtain a Master Flat-Field.
Three different methods of calibration can be used:
Basic calibration - requires a master dark with the same integration time as the raw image;
Standard calibration – requires a master dark that has the same integration time as the raw image and a master flat;
Advanced calibration – requires a master flat, a master dark (same or longer integration time) and a master bias.
Basic calibration is adequate for simple observing tasks. Standard calibration corrects for vignetting and CCD nonuniformity, but constrains you to the same integration timr for your images and darks. Advanced calibration gives you the freedom to use different integration times for your images and provides superior dark subtraction via dark-frame matching.