TOTAL SOLAR ECLIPSE OF 2006 MARCH 29
All eclipse images © Pedro Ré On Wednesday, 2006 March 29, a total eclipse of the Sun was visible within a narrow corridor which traversed half the Earth. The path of the Moon's umbral shadow began in Brazil and extended across the Atlantic, northern Africa, and central Asia where it ended at sunset in western Mongolia. A partial eclipse was visible within the much broader path of the Moon's penumbral shadow, which included the northern two thirds of Africa, Europe, and central Asia.

Egypt and Libya - 2006 Total Solar Eclipse (Fred Espenak) The eclipse was observed in El Saloum (Egypt) near the Libya border. Observing Station All images were obtained with a Takahashi FS60C F/5.9 apochromatic refractor and a DSLR (Canon 350D). Observing conditions were ideal during the whole event (clear skies, low turbulence. no wind).

Animated gif. Total Solar Eclipse (20060329) © Pedro Ré
Full size (1500x1200)
Full Size (1500x1200)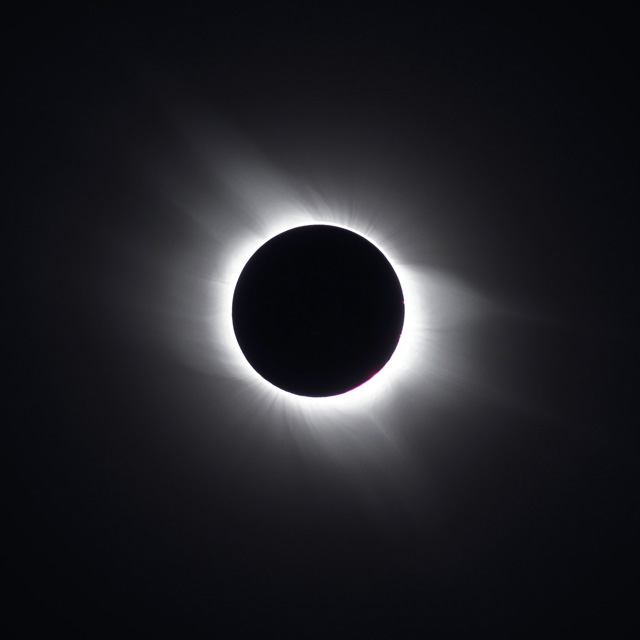 Full Size (1500x1500)
Inner and outer Corona. Full size (1500x1200)
Corona and Earthshine. Full size (1200x1200)
Chromosphere and inner Corona at the time of sencond contact (full size)
Inner Corona at the time of Third contact (Full Size)
Animated gif
Images by Pedro Ré, image processing by António Peres Gomes & Pedro Ré
Unwarpped Corona. Polar coordinates filter (Photoshop CS2).
Images by Pedro Ré, image processing by António Peres Gomes
TV-76 F/6.3, Canon 350D (images by Nicolas Cuvilliers, image processing by Pedro Ré)
Diamond ring effect (10:38 UTC)
Diamond ring effect (10:38 UTC)
Chromosphere, Baily's Beads, Inner Corona, Second Contact (10:38 UTC)
Outer Corona, Earthshine (10:39 UTC)
Outer Corona (10:39 UTC)
Inner Corona (10:40 UTC)
Inner Corona (10:41 UTC)
Corona (10:41 UTC)
Outer Corona, Earthshine (10:42 UTC)
Chromosphere, Baily's Beads, Inner Corona, Third Contact (10:42 UTC)
Diamond ring effect, Chromosphere, Baily's Beads (10:42 UTC)